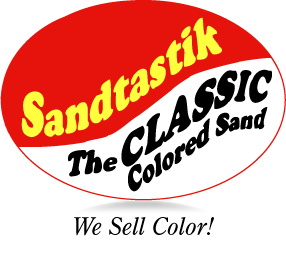 Sandtastik Colored Sand is the world's best-colored sand.
Ideally suited for schools, hobby activities, arts and crafts and floral, Sandtastik is the only sand in the world which contains neither free silica nor free quartz.
Sandtastik Sand is 100% natural, environmentally friendly, safe for children of all ages and is available in 25 vibrant, shimmering colors. All our sands are non-toxic AP approved by The Arts and Crafts Material Institute ( ACMI ), conform to ASTM - D4236 and certified EN71-3 safe for use in Europe.
Regions throughout North America are re-examining the safety aspects of silica and quartz sands for indoor use such as with California's Proposition 65. More and more school districts, day care, hospital and therapeutic institutions are turning to Sandtastik Sand as the safe alternative.
Since 1988 Sandtastik has been committed to providing the safest play and colored sands available. This is especially important to parents and caregivers since sand play is such an important part of a child's development.
Through sand play, a child develops physically, intellectually, artistically and socially. Children will discover and explore new shapes, learn measurements, develop primary motor skills, improve communication and language skills and visualize their world in new and wonderful ways.
Adding colored sand to their sand tables enhances this developmental process, inspiring the child to explore the vivid, multicolor world in which they live.
Thank you for visiting our web site and we hope you enjoy yourself. Our goal is to have a site which is both informative and easy to access.
Enjoy yourself and come back soon.